Protect your Viking in Valheim with the strongest weapons and best shields, but don't let them get in the way of your style.
Even for experienced players who have done it all, it's not easy to face the many tasks in Valheim's Viking-themed world. Having the right gear can mean the difference between life and death as you move through dangerous terrain, fight dangerous enemies, and build fortresses to store your trophies and wealth.
When it comes to defence, a strong shield is the best way to keep enemies away and deflect dangerous blows during a fight. You don't have to look any further than these best shields in Valheim to help you become a powerful Viking warrior worthy of Odin's blessing. They offer defence, power, and just the right amount of style.
Wood Shield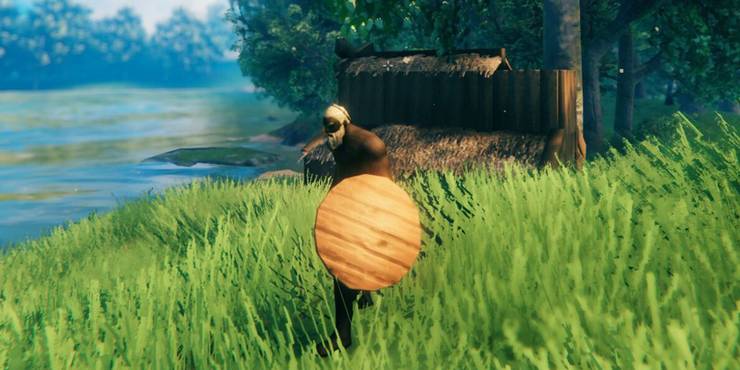 The Wood Shield is a decent mid-tier defensive tool that can be made early in the game with just four resin, four leather scraps, and ten wood. It won't set the world on fire, but it's a good defensive tool nonetheless. This makes it a great choice for a new player who wants to reduce damage.
The great thing about the Wood Shield is that it can be used as a weapon in your off-hand spot. This lets you use your other equipment slots for other things. It can also be used to block enemy attacks, and when fully upgraded with a level 3 workbench, it gives a fair amount of defence.
Banded Shield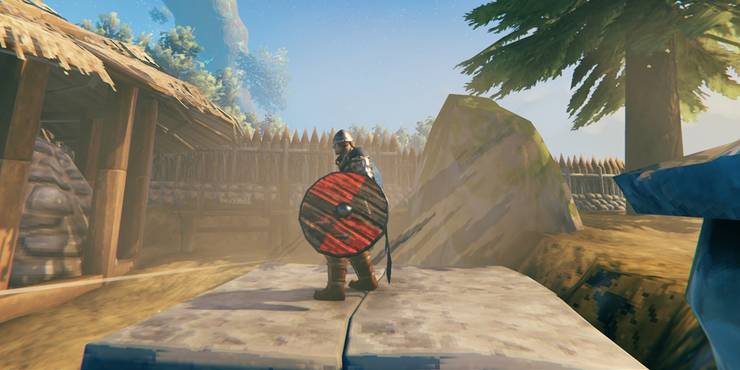 Now, let's talk about the Banded Shield, which is another early-game defence tool made of 10 fine wood and 8 iron. The best thing about this shield is that it protects you from physical attacks, which are more common in the starting parts of Valheim's battles.
The Banded Shield can be upgraded, just like almost every other shield in the game, to make it last longer and be more useful in fight. With a level 4 forge, you can increase its block armour to 54 and its longevity to 300. This more than makes up for the fact that this shield slows you down by 5% when you move.
Bronze Buckler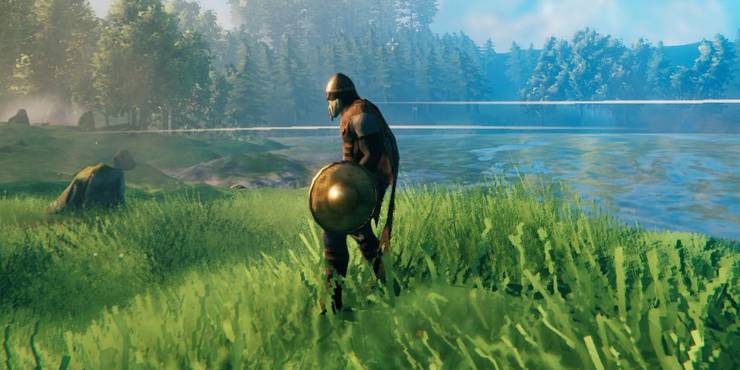 The Bronze Buckler is the next shield. It is a small, circular shield made of four pieces of wood and ten pieces of bronze. The Bronze Buckler has a lot more stopping power than the basic wooden shield. It is also much more durable, making it one of the best shields for new players in Valheim.
You can also use iron ingots to improve it and make the Iron Buckler, which is another powerful shield that comes up later in this list. Overall, this is a good choice if you want a light shield that is made for more agile fighting styles.
Bone Tower Shield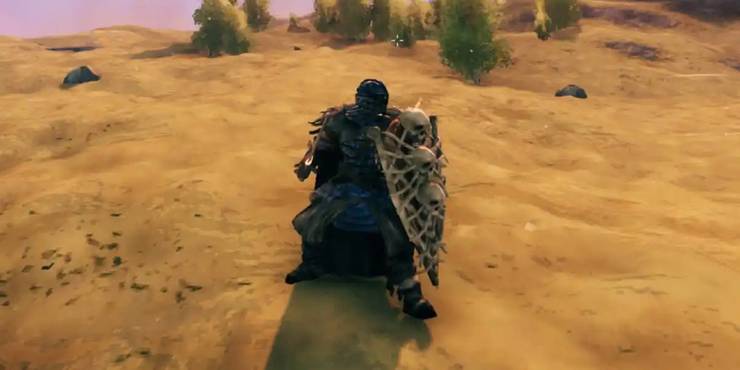 The Bone Tower Shield is one of the more rare shields in Valheim. It can be found in the Sunken Crypts. Compared to the other items on this list, it has very good durability and blocking power, which makes it very useful for blocking strikes.
To make the basic Bone Tower Shield, you'll need 10 pieces of wood, 10 bone fragments, and 3 skeleton awards. All of this comes together to make a shield with a unique look that is strong and looks good in any armoury.
Iron Buckler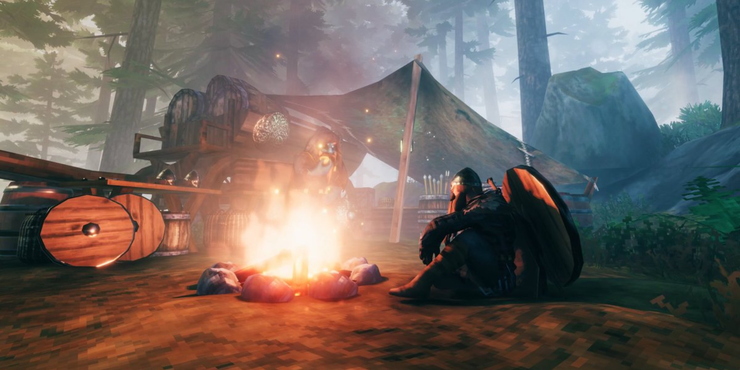 The Iron Buckler is a stronger version of the Bronze Buckler. It is made from 10 iron and 4 old bark. The result is a well-balanced shield with a 2.5x parry bonus that makes it great for avoiding attacks but not so good for physical stopping.
Still, in the right hands, it can be a very flexible weapon. Even though it is better for agile play than brute strength. If you successfully block an enemy's attack with the Iron Buckler. You'll have plenty of time to strike back with a strong counterattack that does more damage.
Iron Tower Shield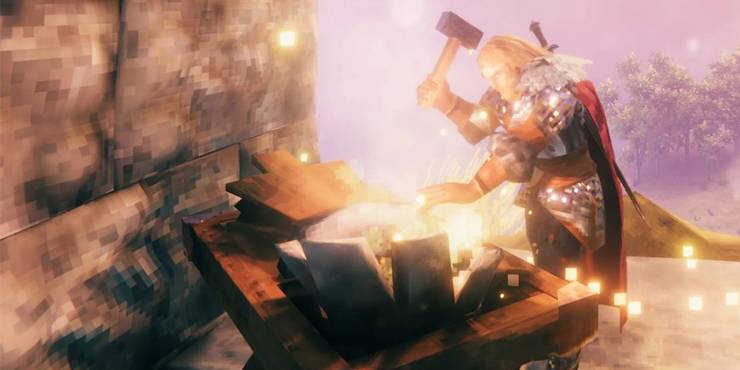 In keeping with the iron theme, the Iron Tower Shield is one of the best shields in Valheim for protecting your Viking from a wide range of physical attacks. This is because it has grown taller, its base armour is 52 blocks. And its force is 100 blocks, which is very high.
The only bad things about it are that it slows you down by 20% and costs 20% more to dodge roll. Also, the Iron Tower Shield takes a much higher level of skill than most shields in the game. But once you've mastered it, you'll feel like you can't be stopped.
Carapace Buckler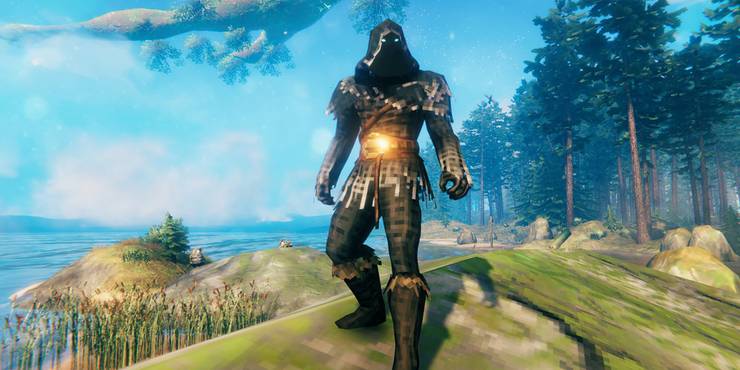 The Carapace Buckler is the third buckler shield in Valheim. It can be made from three scale hides, 10 polished eitr, and 16 carapace. Since it comes from the Mistlands, you also need a Black Forge tool to make it.
More than worth the trouble, since it's light and gives some protection through parrying but less protection through blocking. If you haven't noticed already, this is the mark for buckler shields. Which are designed for faster play styles that rely on quick movements and flanking moves.
Black Metal Tower Shield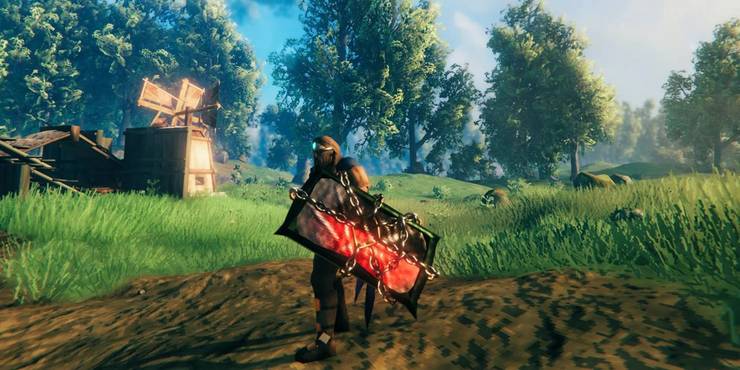 Black Metal items are some of the best things in Valheim. And the Black Metal Tower Shield is near the top of that list. To get one, you need 15 pieces of fine wood, 7 chains, and, of course, 10 pieces of black metal.
For all your hard work, you'll get a very strong shield with 104 blocks of base armour and an amazing 150 blocks of force. Even though it's good at defence, the Black Metal Tower Shield will slow you down by 20% and make it 20% more expensive to dodge.
Silver Shield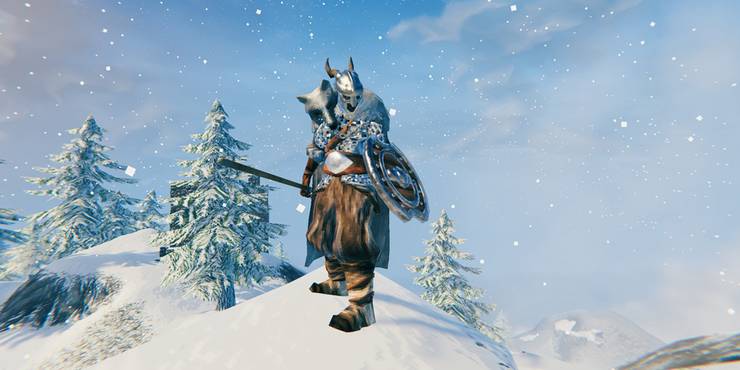 The Silver Shield is another defensive tool that adds value to any loadout right away by making you more likely to stay alive. To make one for yourself, you'll need 10 good wood and 8 silver. To make it better, you'll need more of both.
This shield is one of a kind because it comes in a lot of different colours and patterns that you can choose from in the crafting window. Also, this shield is great for deflecting hits and will help you move quickly.
Serpent Scale Shield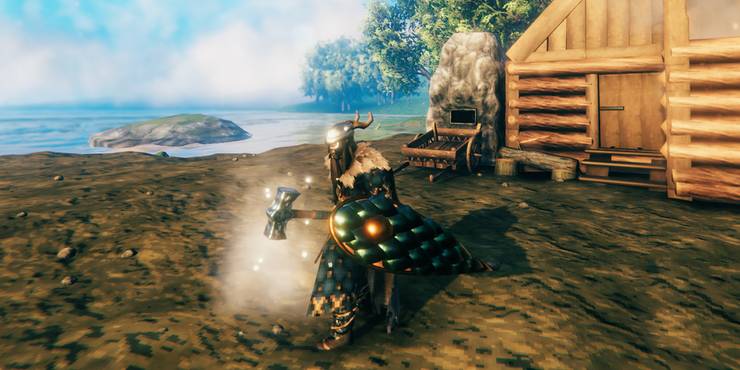 The Valheim community says that the Serpent Scale Shield is one of the best shields in the game. It protects against piercing damage while stopping. At this point, it has a standard of 60 block armour, 100 block force, and 250 durability. At a level five forge, it can be improved by upgrading it.
Making one can be hard, though, because the Serpent Scale Shield needs 10 pieces of fine wood, 4 pieces of iron, and 8 snake scales. It looks elegant and royal, with scales that meet on the side that faces the front.
Carapace Shield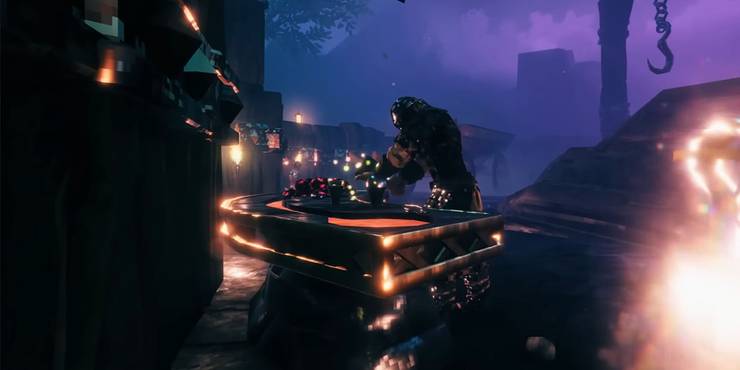 The Carapace Shield is the fifth round shield in 8 Ball Pool game, even though it looks very pointy. It is made of 20 carapace, five scale hides, and 10 polished eitr. Like a few of the other Mistlands shields on this list. You need to have built a Black Forge in order to make this one.
Once it's put together, the Carapace Shield has a base defence of 96 blocks (144 when parrying). A force of 60 blocks, and a 1.5x parry bonus. Even though it slows your Viking's moving speed by 5%. This isn't much of a problem for an otherwise great shield.
Black Metal Shield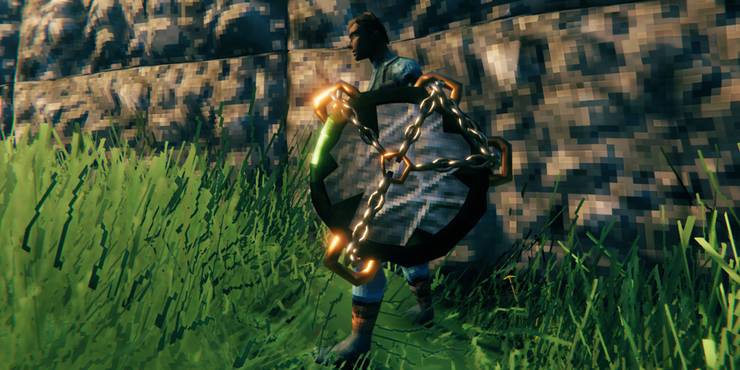 Last but not least, the Black Metal Shield is probably the most powerful shield in Valheim. It is made of 10 fine wood, 8 black metal, and 5 chains. It is very good at deflecting attacks and has a good amount of stopping power.
When the Black Metal Shield is fully improved, it has a base of 90 block armour and 400 durability. Like the Silver Shield, it comes in a variety of colours and patterns that will look great as you charge into war with your Viking weapons.